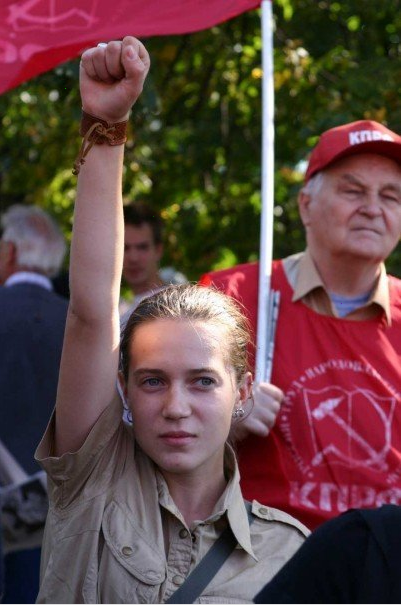 [ed note: the following is an excerpt from the travel journal of my old high school friend Andrej Mucic. In 2005, Andrej bicycled over 7,000 miles through Siberia to raise money for the American Anti-Slavery Group. Previous installments start here.
In this– the final installment– Andrej comments on the political kertuffles taking place just as he's leaving Moscow.]
—–
Subject:  The Warriors
Date:  8/31/05
Remember the cult film classic "The Warriors?" That's what the Moscow political scene has turned into. And your humble narrator was right in the middle of it, but I missed the oppurtunity to rumble alongside my friends in the National Bolshevick Party, by just one day.
Sunday I participated in a demonstration in front of KGB headquarters calling for the release of 39 NBP political prisoners. Here's them in the can:
What suprised me most about this rally was the large number of young people present. In the West, there is a media assumption that all neo-Soviet forces in Russia are angry old people demanding free sausage. This could not be further from the truth. The appalling economic and political situation in the Motherland has radicalized people that were not even adults at the time of the disintegration of the Soviet Union.
The demonstration went well. Afterwards, me and three party activists went for a walk. They included:

Natasha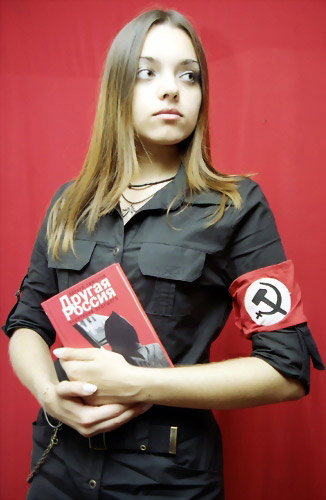 Vera

Alexei
They took me on a fascinating tour of the city. We eventually arrived at the site of their First Bunker, and there we sat down in a beautiful little park and drank beers, ate pickles and talked. I am very impressed with these people. In a land of almost universal apathy and political inaction, the NBP is an island of patriotism and optimism.
That night as I was saying goodbye to the lovely Natasha on the subway, she invited me to a meeting they were having the next day. I told her that I was leaving tommorrow and that I could not make it. I'm lying. What I really said was, "I'm a friend of the Party, I am not a Member." I really regret not going, because that meeting was stormed by soccer hooligan street-thugs, known as the Gladiators, loyal to President Putin. Oh how I wish I'd been there to break a few heads. The weapons on choice are baseball bats and flag poles, both of which I feel very comfortable with. Here's an article that describes the event and the way in which Putin deals with political opponents.
—–
END