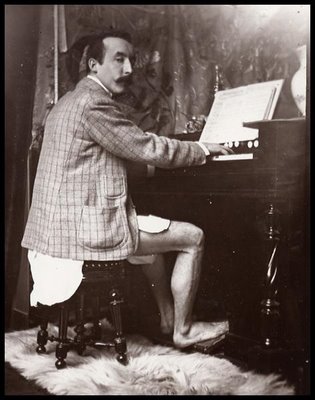 Film director Elia Kazan, from an unpublished letter to Tennesse Williams. Kazan is asking Williams to add a speech in praise of bohemianism to his liberal-leaning script for "Camino Real":
A dying race call them what you will: romantics, eccentrics, rebels, Bohemians, freaks, harum-scarum, bob-tail, Punchinellos, odd-ducks, the out-of-steps, the queers, double-gated, lechers, secret livers, dreamers, left-handed pitchers, defrocked bishops … the artists, the near artists, the would-be artists, the wanderers, the would-be wanderers, the secret wanderers, the foggy-minded, the asleep on the job, the loafers, the out-and-out hobos, the down and out, the grifters and drifters, the winos and boozers, the old maids who don't venture to the other side of their windows, the good for nothings, the unfenceables, the rebels inside, the rebels manifest.
See also: Blog Fight Song parts one and two.
Photo: Paul Gaugin being 'bohemian'.