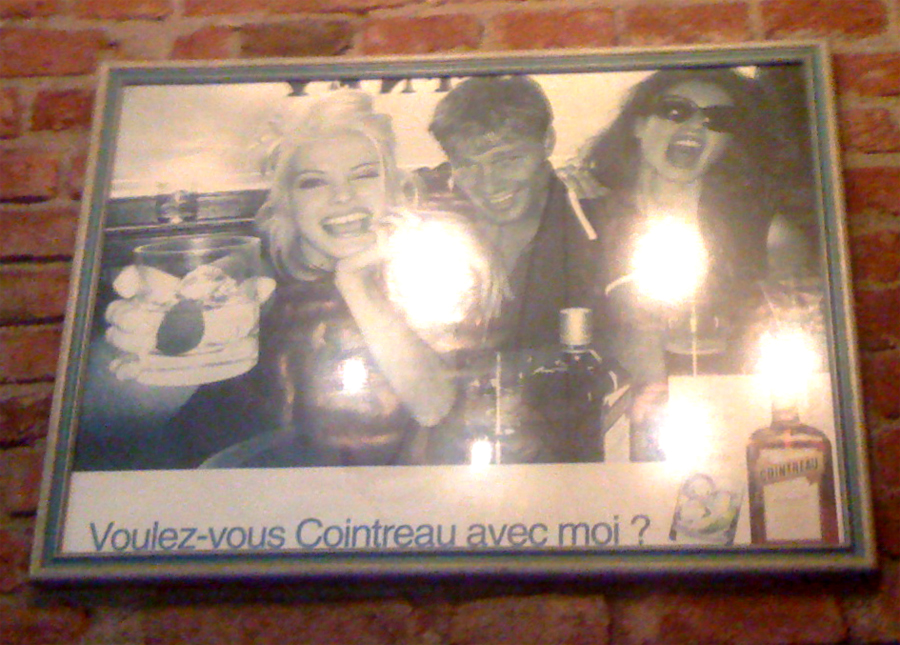 Around the corner from the studio where I work, there's a nondescript pizza/pasta place where I go sometimes to pick up take-away food for lunch. The owner, an nice Albanian guy, used to make valiant attempts to engage me in conversation while I waited for my food, but we had nothing in common other than the fact that we both had iPhones before you could buy them in Czech, so we would have the same conversation every time where he would ask me if I had upgraded to some new operating system or bought some new app and I would always say, no, I haven't. Luckily, he's since delegated counter service to a crew of Czechs who don't bother to make conversation, so lately I've been free to stare at the walls, which are covered in those framed booze ads that are the default decor of restaurants that can't be bothered to establish any particular kind of atmosphere.
This is how I've come to develop a weird begrudging fascination with the Cointreau poster shown above (sorry the photo is so terrible, but I can't find the image online and I can't exactly ask to borrow a step ladder to photograph their poster). Sure, on a conceptual level, it's completely hackneyed and predictable. But, the execution: it's so…….. good.  How convincingly the principals seem to be Having A Good Time. How many hundreds of shots must have been taken that afternoon to get this one photo. How rung out the three models must have been at the end.
Since it's really hard to see what's going on in this photo, I'll describe it for you: the woman on the left winks and smiles and holds a drink out to you invitingly, all at the same time. The woman on the right howls in hedonistic delight. Meanwhile, the guy in the middle is pure caddishness unpunished. His hand dangles irresponsibly as his expression says Don't hate me because I'm feckless. The insouciant atmosphere is ratcheted up another notch by the evidence that its clearly daytime, and by the ingeniously cheesy tag-line: 'Voulez-vous Cointreau avec moi?'.
I don't even know what Cointreau is, and yet there's a tiny part of me that wants to drop everything and join these three for a quick bender in Montmarte. At least, until my pizza shows up and I tear myself away from their seductive invitations. Well done, Cointreau.