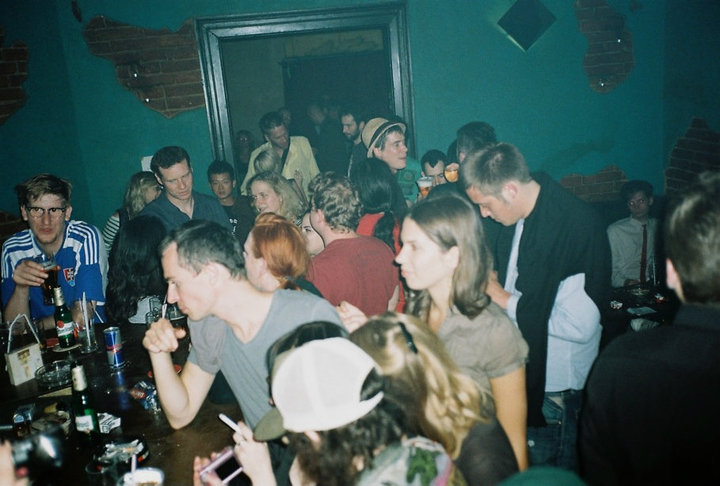 I forgot to write anything about what I did on my birthday last Saturday. First, we got a babysitter, which was great… and unchartered territory for us. We've had family members look after the little guy from time to time, but this was our first hired mercenary. I'll tell you, you haven't truly felt like a grown-up until the first time you pull out your wallet to 'pay the babysitter'.
Then, after dinner, we went to the closing party for the Blind Eye, the one and only real Mission-style dive bar in Prague. Just about every other bar in this city either involves sullen Czechs sitting at tables being served beer in formulaic fashion… or rampant tourist buffoonery… plus there are a few weird meat-market places for professional types in their 30s that I've only gotten a fleeting glimpse of. The Blind Eye was about the only place where people would drunkenly mill around and mix; the bathroom door's broken; there's no light in there so you have to leave the door ajar a bit to do your business; but you're afraid to see what's on the floor so you don't want to open it too much, etc– you know the drill. My friend was so enamored of the place that when he wrote a manuscript loosely based on his own debauched experiences in this Zizkov neighborhood, the action partly centered around a  thinly-veiled bar called 'The Other Cheek.'
The Blind Eye officially closed two weeks earlier with a farewell party that I missed because I was in Berlin. In the annals of 'Wow, that didn't take long', though, they predictably re-opened for  'one final night' to raise funds for some future incarnation of the bar at a new location. You could tell things were really on their last legs when they ran out of beer at 2am. It seems that my Berlin buddy and I got the last two ever served beer in that fine establishment, which is a nice closing note.
(Photo: Kristýna Holubová, stolen from her Facebook album)