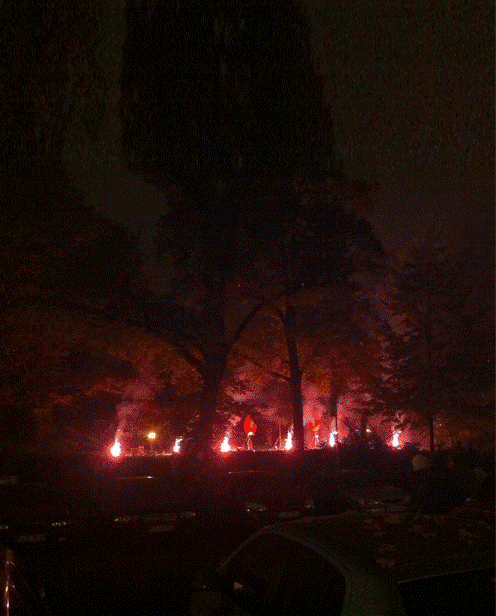 Fireworks at Helmholtzplatz two nights ago.
Somehow, in all my days, I'd never before been close enough to the actual detonation site of a fireworks display to see how the magic works. You can imagine my surprise at seeing these occult-looking lamps set at even intervals along the ground. I'd always been misled to believe that it somehow involved exploding pumpkins and turkeys stuffed with gunpowder.
For the audio background, you have to imagine not only the deafening explosion of the fireworks themselves, but also a unanimous WAIL of children brought to the ground zero launch spot by their parents who were instantly traumatized by all the brimstone and din.
By the way, I've never mentioned this before, but: not only am I an only child… I also have zero first cousins who are actually related to my blood. By weird coincidence, all five of my first cousins were adopted (by three different sets of parents, for varying reasons). I think four of the five have eventually sought out their birth parents, while one abstained. Anyway, the point is that one of my cousins got in touch with her birth family, who turned out to be…. a large Italian clan in NYC who used to produce the big 4th of July fireworks show for years and years. Wow, didn't see that one coming. It's hard to explain, really, but I can barely think of anything more perpendicular to my own extended family than a huge family of Italian firework moguls. It's not clear to me exactly how she wound up not with this festive group and instead with my family and its tight-assed celebrations of Independence Day.