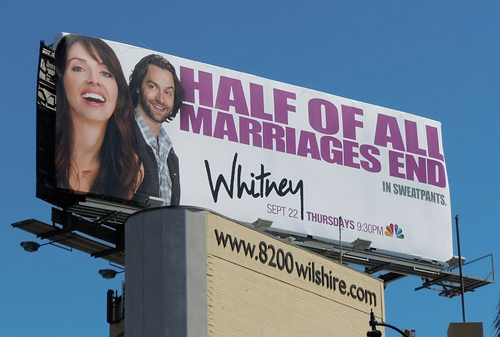 One tidbit from my US trip that I forgot to bring up before: while in SF, I took a quick side trip I took to L.A. to visit former co-blogger Krafty plus some other folks down there.
A mutual friend of ours in L.A.— let's just call him 'Job' for this purpose of this post— is a writer and generally funny guy. For a long time, Job was dating a comedian. Comedian girlfriend, at one point, has a standup gig seven nights a week at a local comedy club (imagine: 'oh, sorry, once again, we can't meet because my girlfriend is performing for the 751st consecutive night.') Then, comedian girlfriend dumps Job and quickly gets not one but two sitcoms picked up by broadcast networks. Yes, it turns out that ex-girlfriend is in fact Whitney Cummings, co-creator and co-producer of of 2 Broke Girls and star, co-producer, and co-creator of Whitney.
But it gets worse: Whitney is essentially a cynical comedy about relationships ('All relationships end… in sweatpants' according to the show's tagline). It stands to reason a large chunk of the comic material here was pulled from Whitney's relationship with our friend Job. In fact, the guy in the show— Whitney's male foil— kind of has the same aura about him as Job. So, imagine: you're dumped by your girlfriend and suddenly the foibles of your relationship are cannon fodder for a TV sitcom with some stranger playing the part of you. And the city you live in is plastered with billboards for the sitcom like the one above, smirking down at you from dozens of major intersections. And it's not like this is some obscure show either— it's Thursday freaking prime time on NBC. I don't want to overstate the case, but it does seem to be verging on worst-case-scenario territory.
My dad is also friends with Martha Stewart's estranged former husband, Andy, whose enduring legacy is that fact that he bestowed the highly-marketable last name of Stewart upon Martha (nee Kostyra). But at least Martha never ventured into cynical romantic comedy territory.