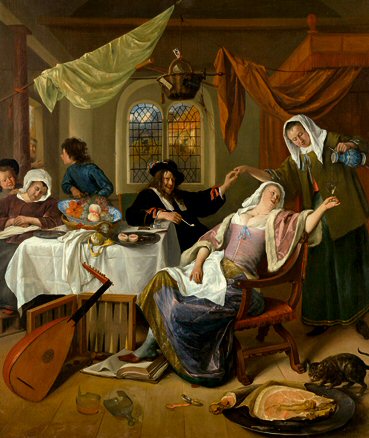 I offer this painting as a response to Dan's recent "Good Times" post, to suggest that not a lot of progress has been made in invoking dissolute good times in the last 350 years. Here's a blurb I found describing this painting by the Dutch painter Jan Steen, "The Dissolute Household." The best part is that Steen used himself, his wife, his sons, and even his mother as the models for the figures.
This painting depicts a "Jan Steen household," a standard by which all later family dysfunction may be measured. The lady of the house tramples a Bible while having her wineglass refilled. Her husband and the maid join hands in a gesture suggesting service beyond the call of duty. The boy in blue fends off a beggar at the door, thus recalling the Parable of the Rich Man and Lazarus (Luke 16:19–31), in which the more fortunate figure goes to hell. Fate hangs over the family's head in the form of a basket holding a sword and switch (signifying justice and punishment), a crutch and can (forecasting poverty), and a wooden clapper (used by lepers and the plague-stricken). In this (sixteen-) sixties sitcom, Steen himself stars as the father, his wife Margriet van Goyen as mom, and their sons Thaddeus and (next to grandma) Cornelis as themselves.
Top that, Cointreau ad agency!