[ed note: the following is an excerpt from the travel journal of my old high school friend Andrej Mucic. In 2005, Andrej bicycled over 7,000 miles through Siberia to raise money for the American Anti-Slavery Group. Previous installments start here.
Nearing the end of his adventures, Andrej returns to Moscow and explores the city.]
—–
Subject: The Underpass
6/13/05
The time had come for me to pick up my ticket for Montenegro. The JAT (Serbian Airline) office is near Arbatskaya, in the belly of the Moscow beast.
The weather alternates between rain and sun. I am in my traditional attire and I am lost. The streets here aren't marked, and a compass is very helpful.
I'm practically naked and walking in an underpass. At the end of the underpass is a stately old woman wearing a Soviet army uniform, sitting on a box and begging for change. As I approach her I'm already fishing around in my pocket for change. Then she suddenly comes to life and shouts, "Hey sportsman…nice pecs! You look like you're new in town." Yes dear readers, she was hitting on me.
She tells me that she's 80 years old and that if she was a few years younger, she'd just love to jump my bones. I tell her that she too is a hot little ticket. She is flattered, and she tells me that back in the day she was a champion sharpshooter and that she personally killed 27 Germans in the Great Patriotic War. She says that she begs as a hobby; something to do to get her out of the house. She is saving her begging money to buy a new set of teeth so she can be beautiful again. I can tell that she must have been incredibly sexy back when she was one women slaughterhouse.
I give her one hundred roubles, because she is the first Russian girl that hit on me. Finally!!!! As I'm half-naked and chatting with one-shot-one-kill Natasha, two wicked hot young blonde hotties approach me from behind. "Spechenzee Duetch!?" they ask "Nyet." I say I could not believe my luck. It was like a tag team hit-on-Andrej Ho-Down in the underpass. Russian gils are usually very shy and they seem to be afraid of me. God bless German girls (and Irish girls). They're truly are the salt of the earth.
I tell the two little hotties that I'm an American and that I also speak Serbian. Their giggles fill the underpass. I'm giggling too. They also speak a little English. Turns out they are Russian, not German, and they study languages at the university, and they are eager to practice their English. So I insist on buying them some beers. I say good bye to Natasha and go above ground with my new little friends.
And so there I am, in my underwear, in an outdoor cafe in the Arbatskaya, sippin a cold one and giggling with the ersatz-Olsen twins. From there I drift in to Sector Southwest. As I leave  Sector Center, it begins to rain, hard. But what do I care? I'm practically naked. I think that walking through Sector Southwest, in the rain, ranks as the top ten of the greatest days in my life. As I walked, I meditated on Rutger Haurer's improvised and haunting last lines in Bladerunner.
If you haven't walked naked through the rainy streets of Moscow, you haven't lived. I've done the Paris in spring time thing, and it doesn't even come close.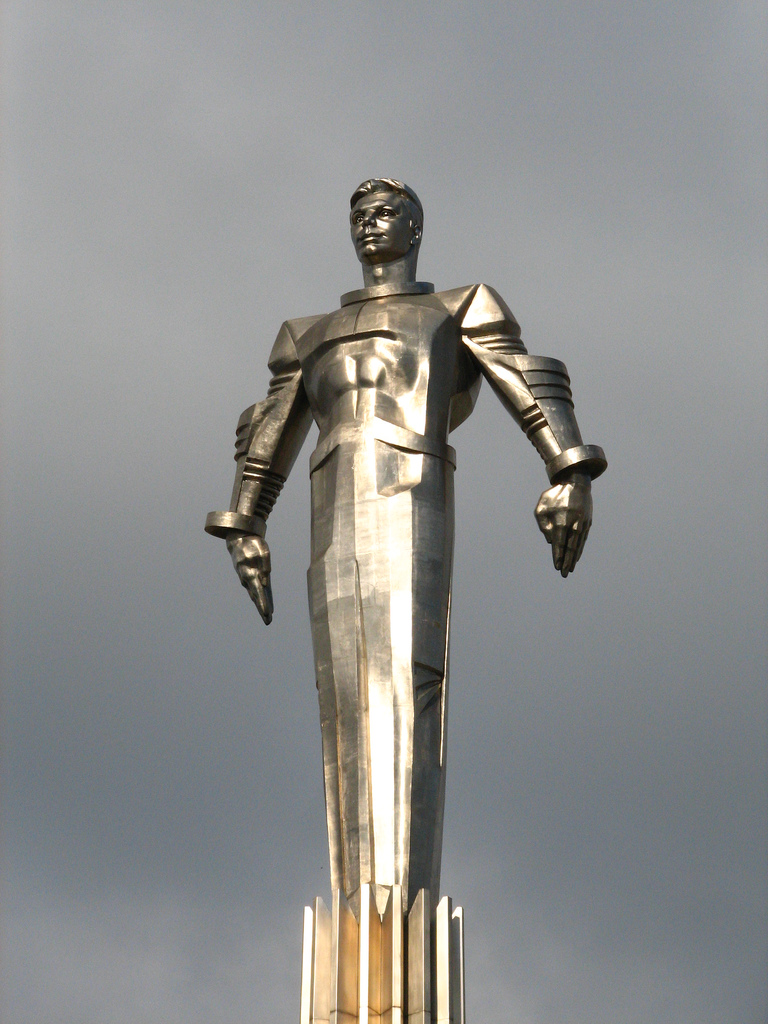 [Yuri Gagarin statue photo courtesy of Flickr user Spaak]
Then, suddenly, I enter a huge square; it isn't really a square, it's more like a gigantic intersection of five eight lane roads. And in the middle is fucking super cool titanium monument to my nigger Yuri Gagarin. This is definitely my favorite monument in Moscow. And across the square is the extremely interesting looking Soviet Academy of Sciences. I don't know how to describe this building. Imagine Viennese art nouveau meets David Lynch's Dune. I explored its court yard.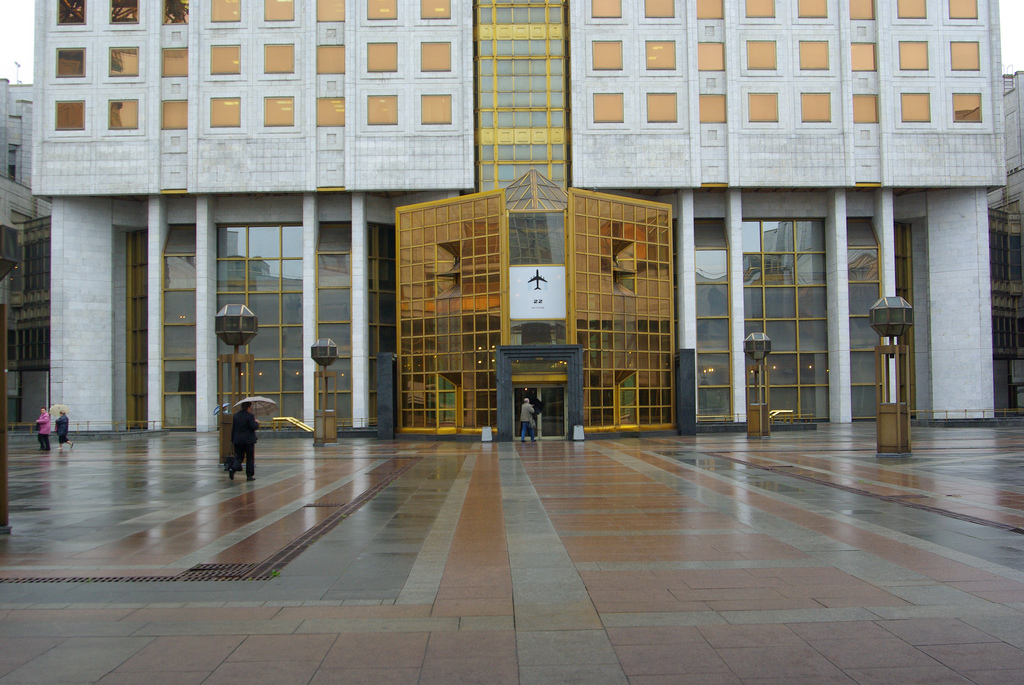 [Academy of Science photo courtesy of Flickr user Dash Morgenstern]
From there I entered a mighty wood and walked for two hours until I reached Moscow State University. There I sat, on the dry fountain in front of this awesome building in the middle of a forest, and meditated on my own academic future.
—–
Next: Warriors