One of the best ideas I ever had in my life came to me in high school, moments after some crackpot on the street had handed me one of those Jack T. Chick religious tracks that everyone's run across at some point. I specifically remember it was one called Dark Dungeons, a stern warning about the devilish evils of role playing games: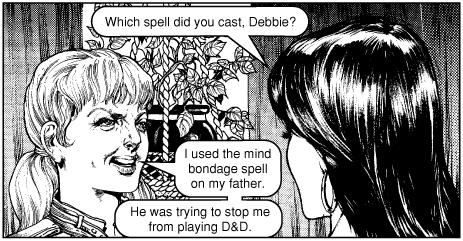 Anyway, my epiphany was to write to the address printed on the back and present myself as a high school teacher looking for religious materials to help me save my damned and unruly students. I used my high school's address to make the teacher ruse more believable, and sat back and waited. A few weeks later, a box containing a motherlode of religious junk appeared, including…
a ton of those afteromentioned tracts
These great full-size comics called The Crusaders about two musclebound guys, Tim and James, who go around busting satanic plots in small towns and are always kneeling down and praying together on the floors of supermarkets and stuff like this. There's homoerotic tension oozing out of every page, believe you me.
A lenghty hand-written letter (!) questioning the sincerity of my faith (it's quite likely that my letter wasn't entirely convincing, given that it was written by a stoned 15 year old).
But the crown jewel of this haul was a 345 page treatise called The Devil's Disciples, written by one Jeffrey Godwin (one hopes this is a pen name), that purports to "rip to away the curtain of lies, ignorance and misconceptions about modern Rock music" and "show the Satan-worshipping world of Rock in all its sick and deceitful glory":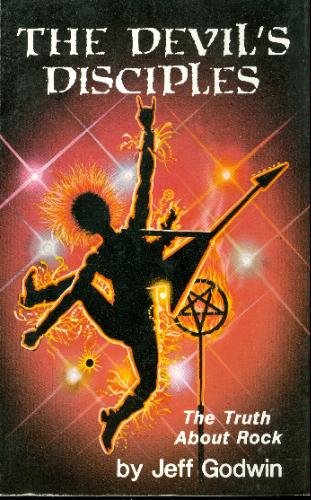 In an appendix in the back, we're informed by Godwin that he used to be a slavishly devoted metalhead before he saw the light and turned to God. The book is quite likely the funniest thing ever written, in large part due to Godwin's prose style, which veers between wild hyperbole, leering hatred, snide condescension, pathetic gullibility and then — just when you're thinking that the whole exercise is appallingly pitiful — unexpectedly lucid insight. Some examples…
Writing style:
"From a sneering, hip wiggling hillbilly named Elvis Presley to a blood drinking, bat biting maniac named Ozzy Osbourne, today's Rock Stars have the full blessing of Satan in the work they do," Godwin warns. And this is the second sentence in the book! Within the next two pages, rock music is characterized both as a "ravenous leech" and a "huge sprawling parasite", performed by "male singers wearing heavy mascara and lipstick, fondling themselves while hissing demonic lyrics at a mesmerized audience."
Frequently, the author gets so carried away condemning the musicians he hates that they come across as evil comic book super-villains. Still in chapter one, he delivers a scathing account of Altamont and the Rolling Stones' (described in passing as 'a band of depraved, drug addicted black magicians') culpability in the disaster: "What were the Stones doing during this pandemonium? They simply continued playing as long as possible, coldly noting the chaos they had brought about, occasionally leering at one another". [emphasis mine]. What an image!
Tragic Gullibility:
One thing that's sad about this delightfully enjoyable book is how much the author gets taken for a ride by all the flash-in-the-pan nobody bands that were affecting a cheesy veneer of satanism in order to sell records to suburban teenage boys in the 80s. I mean, I can believe the Rolling Stones were devoted satanists… but PileDriver? Or Keel? Or jokers like Twisted Sister? Not so much.
There are a few not-so-menacing names that make it as far as Godwin's countdown of Top 10 Most Satanic Bands Ever. Number four, for example, is Motley Crue: "A ragtag gang of foul mouthed and vulgar fornicators who openly brag of their detestable lifestyles, Motley Crue is Satan's Pied Piper of the 80s, their siren call dragging thousands of fresh souls down the well-worn ruts of the Highway To Hell." Yeah… in Tommy Lee's dreams.
All in all, these parts just remind you more than anything else about how goofball mainstream metal mores were in the 80s until Nirvana restored some sense of seriousness.
(Number ten on Godwin's public enemy list is the totally negligible W.A.S.P.)
Strange moments of lucidity:
Just when you think he's gone totally off the rails, Godwin comes up with something strangely probable. Consider, for example, his explanation for the shooting of John Lennon: Lennon, in his telling, had dropped out of the Rock-n-Roll lifestyle by the mid-70s and was instead producing records like "Double Fantasy", an album described as "a record filled with passionate devotion to wife and family". In Godwin's telling, Satan is now spurned and sends Mark Chapman after Lennon because the latter has gone off the reservation. In conclusion? "Lennon had outlived his usefulness as the Devil's slave, and he ceast to exist". There's a certain logic to this– certainly, it's more believable than 'some random nut read too much JD Salinger and decided that Lennon needed to die.'
And, lastly, the chapter on Punks:
I can't end this without mentioning the fantastic chapter on Punk rock (which Godwin believes in somehow tied in with England, socialism, and a determination on the part of the dark lord to overthrow capitalism). A few passages:
We remember to well what Punks and their music were like in the Seventies — a screaming, cursing, insane mob of monsters. Let's take a look at Punk today.

Another simmering, steam-bath night is descending on Los Angeles in the sweltering summer of 1986…. In defoliated, bombed out suburbs like West Hollywood, the Punks, or "street survivors," as they are also called…
Street survivors?
…. mass on the trashy sidewalks outside their favorite Rock & Roll clubs. California punks come from far and wide to join in Fascist sprees of Nazish violence and blood-letting, a feast of "slam dancing" that leaves many with broken bones, slashed faces and busted heads.

Some sections of Los Angeles have been completely taken over by Punks. Santa Monica Boulevard is a good example. The place is a nightmare in 3D, a living, breathing abomination, a riveting and horrible example of what thirty years of Rock & Roll has mutated and produced in our young people and our culture. If you ever drive through this area, keep your doors locked and your windows up.

Many Punk clubs here resemble fortresses with barred windows, heavy doors with peepholes and walls thick enough to repel any enemy invasion. People stand in the street, threatening passerby and harassing traffic. Others lounge on upturned garbage cans, or squat on the sidewalks, bored, waiting for some "action".
I could really go on with this forever. But, time to sign off and go find some "action".