Longtime readers may recall a post that the since-deceased Krafty wrote on the topic of the Uncanny Valley: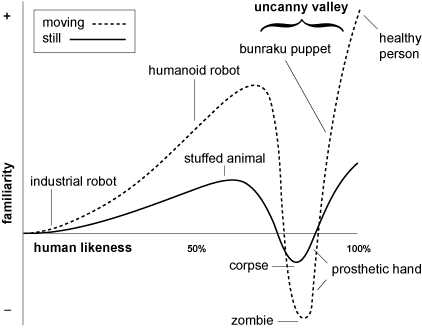 Perhaps, at the time, you marveled at the splendid oddness of this shiny new meme. Maybe you studied the graph carefully enough to realize the 'prosthetic hand' is cleverly mapped to TWO data points, one on the 'moving' path and one on the 'still' path. Or perhaps you just moved on to the next post, which was probably something about robots.
Nowadays, you can't swing a dead cat without it slipping from your grip and landing in the Uncanny Valley— what was once a private conceit has grown into an inescapable meme. Last week, a friend forwarded me two links to read… and it turned out that BOTH articles included off-hand references to the Uncanny Valley:
First, it cropped up in an investigative article by Willy Staley entitled, 'A Conspiracy of Hogs: The McRib as Arbitrage'. Staley invokes it to describe the disturbing physical form of the McDonalds McRib sandwich, in this compelling rant about the cloaked and sinister market forces that account for the otherwise-unexplainable appearances and disappearances of this perennial big ribby thing: "Each time it rolls out nationwide, people must again consider this strange and elusive product, whose unique form sets it deep in the Uncanny Valley—and exactly why its existence is so fleeting."
I enjoyed Staley's short history of the product, and shared in his puzzlement about why the thing looks so grotesque when McDonalds has clearly harnessed the ability to mold food into whatever kind of non-offensive spheres they want (see McNuggets). Also, a weird ancestral memory stirred in me while reading this. A memory of a book called Encyclopedia Brown's Book Of Weird And Wonderful Facts that an aunt gave me for one of the birthdays in my nerdsome younger years. The book was only loosely affiliated with the crime-solving boy sleuth and basically just contained a long list of odd-ball factoids.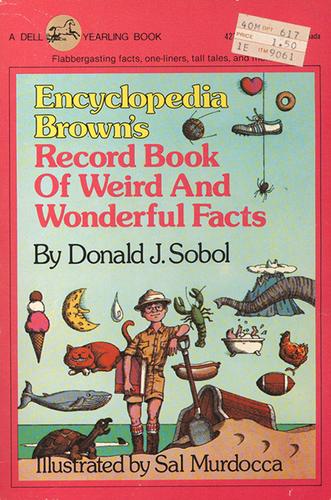 One such factoid that stuck in my memory was a tidbit about a local Burger King franchise somewhere in Massachusetts who got in trouble for putting a promotional display outside his restaurant that showed Ronald McDonald in a coffin with a tagline: They got me in the McRibs. The point was that children were distressed by the dead clown. Just as seems to happen to the local Republican Committee every time around Halloween leading up to an election year, a co-mingled spirit of partisanship and gore got the better of the Burger King franchisee's common sense.
The second link my friend sent me is called The Social Graph Is Neither, and the author's voice seemed oddly familiar from the outset… sure enough, by the end, I realized that it's written by the irritatingly talented Idlewords guy, Maciej Ceglowski. Ceglowski evokes our friend, The Uncanny Valley, in a somewhat more trenchant way to describe creepiness of social networks and their efforts to map and mimic social convention. "Asking computer nerds to design social software," he writes a little later, "is a little bit like hiring a Mormon bartender." Then, he actually manages to work the Mormon bartender joke back into the article a bit later— that was good.
Anyway, I suppose you could tabulate all the Uncanny Valley references made since this blog started and plot them according to an X and Y criteria in order to make a Meta/Uber Valley of Uncanny Valleys, and the result would probably be something nerdy that would allow you to make the Mormon bartender joke yet one more time.