This past weekend, we threw the kid in the back seat and drove to Berlin through some really bad weather. On the D8 highway that connects Czech Republic to Germany, there's a big Mattoni sign that looms over the highway. I've always thought the sign is pretty cool looking, but I can only remember doing the drive in decent weather before. In the foreboding context of our Friday drive– low visibility, gathering clouds– I suddenly realized how much it looks like a giant prop from Schindler's List or some other Nazi movie, 'welcoming' you to Germany: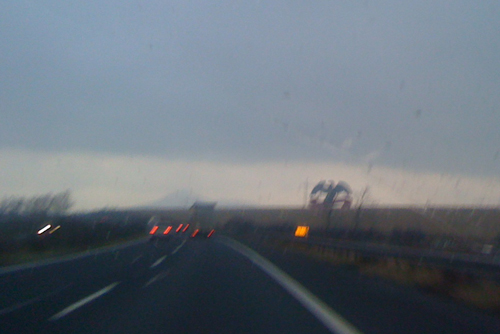 In normal weather, the sign has much more of a 'hello, birdie' quality: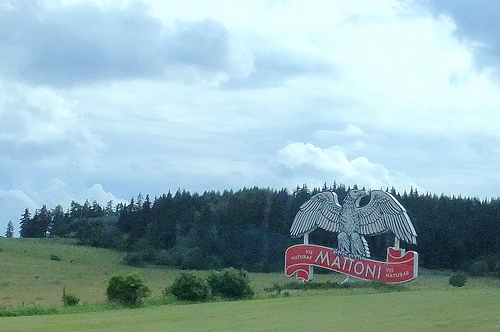 (Photo: Flickr user Bharfot).
Unfortunate communications misstep that could have been avoided if they'd provisionally changed the Mattoni mascot to an anteater or a caterpillar for the Czech market. But I suppose the brand dilution wouldn't have been worth it.
The choice of title for this post is sort of an homage to my favorite-ever Roz Chast cartoon, which I'm desperately trying to find an image of online but without success. It appeared in a New Yorker issue rightaround when Prozac first hit the market, and the premise is basically: What if various historical figures had access to anti-depressants? There are four examples, and the last one shows a doped-up Edgar Allen Poe cheerfully looking over his shoulder and saying, 'Hello, birdie!' to the raven.
See also: Hello, Birdie