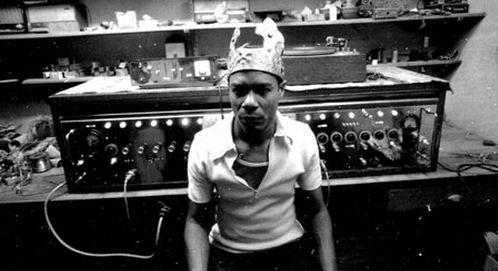 There's a third article for Smashing Magazine that I'm currently doing research on and kind of poking around and mulling over. Just to be clear: the first article was on type– that one's done; the second one is the thing about the unicorns– that one's almost done. This third one is about typography and design in Jamaican album covers: the conceit is that you can track two dueling tendencies of colonialism and exploitation vs. black nationalism in the visual themes and type forms of albums associated with ska, rocksteady, dub and reggae. In a sense, it's an eighteen-times-more-serious counterpart to the Showcase of Hideous Xmas-Themed Reggae Covers I did for the blog a few months back.
The nice thing about this is that its been a good excuse to pore over Lloyd Bradley's This Is Reggae Music again and other favorite sources, and get a not-really-necessary-but-self-indulgently-pleasant update on all my favorite pet issues. There's the legend of Earl 'Ska' Campbell, who reportedly killed himself by soloing too vigorously. There's the fact that King Tubby was, of all incongruous things, a clean freak who didn't smoke pot. But there's one detail that I came across tonight that I was particularly happy to recover, because I read about it more than ten years ago in the liner notes to a dub compilation but couldn't remember all the details or exactly where I'd read it (has that ever happened to you? It's maddening). It's an eye witness account of the first time dub was played to a live crowd:
The crowd did a quick double take and then went wild, pushing down the fence until it was flattened, and then rushed in, knocking the speaker boxes flying.
It turns out to be music historian Steve Barrow (the same guy who started Blood And Fire Records), describing King Tubby's first public airing of dub. I love the idea of a herd of listeners spontaneously rioting in response to the invention of producer-oriented music. In a less specific sense, I love any account of an overwhelming, uncalculated mass reaction to a piece of pop music. It comes from the same place as the first time that Elvis Presley's 'That's Alright Mama' was played on some pokey Memphis radio station and the entire surrounding county area was seized with a collective mania, jamming the station's phone lines for hours on end (recounted in Last Train to Memphis). It can come in less dramatic but more pervasive ways, too– remember when 'Hey Ya!' came out in 2003 and it seemed that Outkast had cracked some code for getting white and black people to go nuts over the same music. (Note: I ripped off that phrase about 'cracking the code' from some Pitchfork writer, but I'm too lazy to add yet another link to this post).
That's what's great about pop music: it's the only thing on earth that can suddenly make a large group of people (hundreds, thousands, millions even) urgently experience some common sensation that they had no idea they had in common with tons of other people. Not even politics can do that. Sure, what's going on in Egypt right now is important than 'Hey Ya!'…  but everyone in Egypt already knew they hated Mubarak. That's the difference.