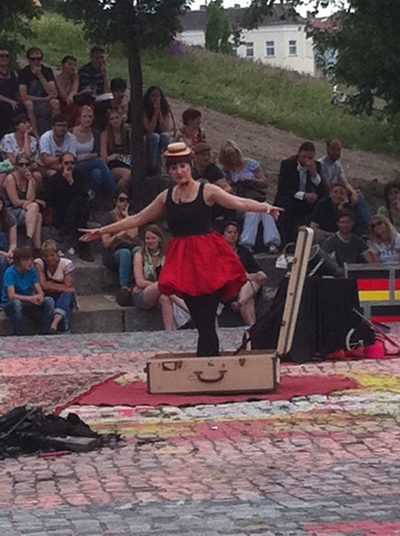 So far, during our first week in Berlin, my wife and I have agreed to a system whereby I'm allowed one comment per day along the lines of 'Berlin awesome! / Prague sucks!' so that I don't drive her crazy by continually beating the same conversational drum throughout the day (plus, you know, denigrating her native culture and that stuff).
I find that I get the most mileage out of my one daily comment if I present it as a pseudo-amnesiac episode. Example: on Saturday afternoon, we went to a bike store to get help fixing our kiddo bike seat onto my wife's bike. On the way back, I decided to use my allotted comment this way:
Me: 'Boy, that sucks that we didn't get to the bike store before noon and so it was already closed when we arrived.'
Wife: (confused)
Me: 'Oh, wait– we're in Berlin, I forgot… the store was open! That's Prague where every bike store in the city is closed by noon.'
I have to admit that this construction gets pretty contrived after a while, but I don't think I've totally worn it out. Yet.
Other comments-of-the-day have revolved around fairly banal (yet strangely evocative) differences in day-to-day life. The fact that people will stop for ice cream and sit down with it on the curb and idle away a few minutes enjoying themselves there instead of sullenly bustling away as fast as possible. The fact that the bank machines actually dispense notes that you can break without getting the Czech Iron Curtain Face (Czech ATMs for some reason dispense the equivalent of $120 bills, which you're subjected to eight kinds of contempt simultaneously if you try to use anywhere). You get the picture– lots of small things of the Pulp Fiction 'Burger Royale' caliber. Then there's also the UNBELIEVABLE RELIEF at being able to bike everywhere again. (You can bicycle in Prague, but will quickly drop it if you value life and living to any degree). I almost feel it breaks the entire social contract if you're living in a city and can't bike…
But most of all, there's a startling sensation of dilation for me coming from a place as culturally-compressed as Prague. Everything in Prague is still done in a way that is just Czech, Czech, Czech… often, nobody seems to know why it's done this way… maybe the thinking behind it hasn't been revisited in three centuries… but it just is a certain way and there's no negotiating with it. Berlin has the kind of elasticity preferred by rootless cosmopolitan Jewish homosexuals like myself– the city seems to mutate and adjust to meet the shifting demands of its inhabitants, be it a demand for ethnic food or stores that stay open past fucking noon on a Saturday.
(Photo: on same Saturday, we all biked together to Mauer Park, as I hoped that something interesting would happen that would justify my constant 'Blah blah, Berlin is so cool' claims. We arrived at the place where I've heard about the karaoke being done and came upon this impromptu mime act. Whew!)