Apologies for the oh-so-crappy image quality. These are actually photos (taken with my iPhone) of photos of a Czech festival called Majáles that my wife's father showed us while we were visiting him in Karlovy Vary. I guess these are from the late 1950s, although I didn't ask. That's him among the ladies, dressed– ahem– in blackface. And again:
Majáles was a student celebration that took on political undertones through the 1960s and directly led to the demise of the Novotný presidency in favor of the liberal reformer Dubček (which, in turn, led to the Big Depressing Thing That Happened In 1968, i.e. the Russian invasion and subsequent smack-down). Basically, it looks to me like a genteel predecessor of the Love Parade, minus the stampedes.
While poking around for more information on Majáles, I came across this excellent footage from the 1965 parade (the one that helped do in Novotný), in which Allen Ginsberg somehow materializes and is crowned king of the event. Ginsberg brags about this in the Dylan documentary No Direction Home, but I'd never known exactly what he was talking about before. Now, normally, I find Allen Ginsberg the second-most annoying person alive after Ray Manzarek, but you have to hand it to him here…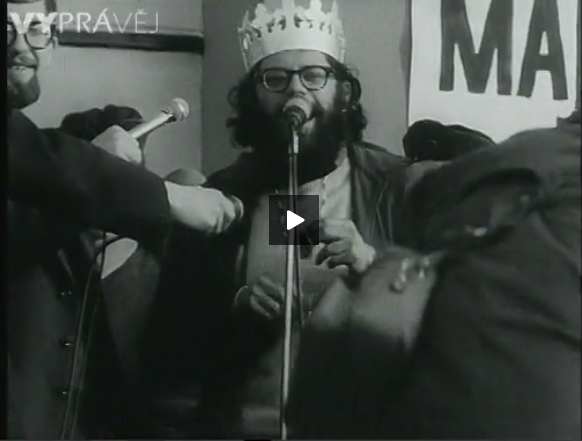 This clip is one of the best pieces of footage I've seen from the old days in Prague– in fact, I'm going to link to it again, because I think you'll enjoy it. Watching it, you just can see the wheels starting to fall off hardline Czech socialism: the parade maintains a fig leaf of kitschy medievalism (this being the mode of public celebration approved of by the government), but underneath there's a scarcely-concealed roiling undercurrent of hippie liberalism. It's so nascently hippie, you can practically imagine Os Mutantes suddenly taking the stage. In this sense, its sad to watch, too, as you can sense the coming inevitability: if you were the USSR, you would have invaded this debauched satellite state too.