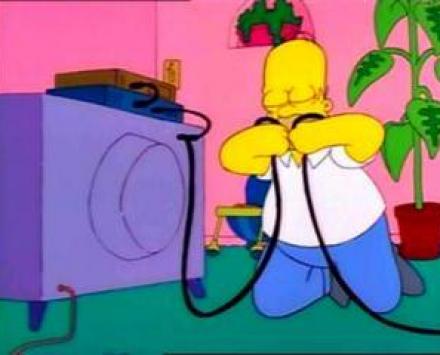 The recent post about Microserfs and the early days of the internet got me thinking about another back-in-the-day cultural turning-point: the dawning of the Simpsons. The Simpsons era, of course, predates the internet. The show has been going on for so long that the original Christmas pilot episode aired when Ronald Reagan (!) was still in office. It's been going on for so long that an episode from the show's second season revolved around the premise that Homer is the only person in Springfield who has cable TV (at the time, yes, this required some suspension of disbelief… but still). The show has been going on for so long that I watched the early episodes on a black-and-white TV in the basement of our technologically-challenged home (perhaps this requires an even bigger suspension of disbelief).
Today, there are 486 episodes of the show, spanning 22 seasons… and probably three quarters of these I have yet to see. But, for the first few seasons, it was difficult to overstate the significance of Sunday night, 8 o'clock— you could actually feel the cultural ground shifting under your feet. The thing is that TV and pop culture had landed in an all-time rut by the late 80s: there was just nothing subversive at all in mainstream entertainment that echoed the kind of cynical humor deployed by my circle of teenage friends. Even Letterman and Moonlighting (which were not all that incendiary to begin with) had become (respectively) routine and defunct by that point. And so C&C Music Factory had come to rule the planet. It had gotten so bad that, as a 15 year-old, I had actually stopped watching TV entirely, an unexpected reduction from the approximate six hours per day I had been taking in just a few years earlier.
Coming from this position of total disinterest, I can still remember the peculiar thrill of watching an early Simpsons and noticing that, among a lynchmob of townspeople assembled to attack Bart, there was inexplicably a debauched clown in the group (Krusty, of course). This was exactly the sort of random, irreverent non sequitur that had been so conspicuously absent in the existing paradigm where every joke on every show presented itself with a deadening whiff of familiarity: "have no fear, this joke derives an established tradition of humor and thereby resembles a joke you've seen on some other show before." In this sense, the Simpsons really did feel like a weird harbinger of the internet and its democratizing effect: it was the first instance I could remember of the type of disaffected, Gen-X humor used by people around me bubbling up into mass entertainment and suddenly appearing onscreen. Nowadays, this phenomenon is routine: the 'humor landscape' is dominated by memes that start with one or two people, go viral, and eventually become ubiquitous. But, at the time, it felt like some cosmic fissure had must have appeared in order to allow something other than Archie Bunker-style joke sensibility to appear on TV.
I remember reading something about National Lampoon a while aback that claimed that the Lampoon ushered in a new era of American humor. Previously (the article postulated), humor had been based on the Jewish tradition of oy, what a fool am I!. The Lampoon, it went on to argue, moved American humor to a more acerbic, cutting kind of humor descended from English and especially Irish tradition: what a fool are you. I guess that, by the late 80s, this vein failed to reflect the emerging theme of Gen-X humor: what a fool everything is. Maybe the Simpsons signaled a shift to this new mode. Or maybe it just signaled a shift towards humor becoming more responsive to the sensibilities of the society at large.