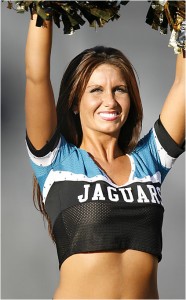 1) I can never pass up a good defenestration story: it seems that an NFL player was hanging out with his girlfriend, a 19-year old cheerleader for his team, when things went somewhat awry.  Given that she was only 19, it's not all that surprising that the two of them were in the TV room of her parents' house — but what is surprising is that one of her jilted admirers broke into the house with a plastic bag over his head and started chasing them around the room and pistol-whipping them, yelling things like, "I can't believe you're with that guy" and even some witty action-movie repartee.  The NFL player escaped out the second-story window, suffering minor bruises, while the girl ran downstairs, got a gun, and exchanged fire with the intruder!  Fortunately, neither of them had very good aim.
Here's a link to the full story, with some other details such as that the intruder also took a few swipes at the family dog, and that the team in question — the Jacksonville Jaguars — refuses to admit or deny whether the girl is actually their cheerleader (although she plainly is, or at least was).  As always, you can count on Florida to provide the weirdest stories.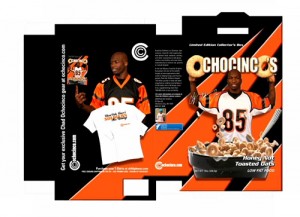 2) For those who don't know him already, Chad Ochocinco is a very talented NFL wide receiver.  He is also extremely outspoken, may have a personality disorder, and is famous for getting fined for his over-the-top celebrations after scoring a touchdown.  His name used to be Chad Johnson, but he went by the name "Ochocinco" because his jersey number is 85 (I know, I know, that's not even how you say 85 in Spanish), and when the NFL wouldn't let him put "Ochocinco" on his jersey , he legally changed his last name to Ochocinco!  That is dedication.
Anyhow, Chad appears in this edition of "This Week in Sports" because of an unfortunate mishap with a new line of cereal he is promoting for charity called, natch, "Ochocincos."  Take it away, espn.com:
"Charity-minded callers are getting intercepted by a sex phone line because of a misprint on Cincinnati Bengals wide receiver Chad Ochocinco's namesake cereal boxes.  The phone number is supposed to connect callers to Feed the Children, which benefits from sales of 'Ochocinco's.' But because the box has the wrong toll-free prefix, they get a seductive-sounding woman who makes risque suggestions and then asks for a credit card number."
The lucky sleaze merchant whose earnings just went up ten-fold had better make a big donation to Feed the Children.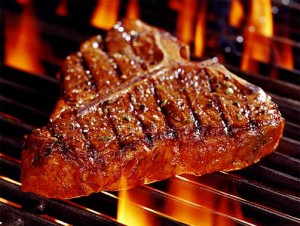 3)  Finally — yet another Tour De France winner tests positive for a banned substance, leading to the inevitable question, "What is the point of a sporting event if the winner cheats every single year?"  This year's cheater gets style points for his creative explanation: the "false" positive was due to some contaminated meat that he ate.