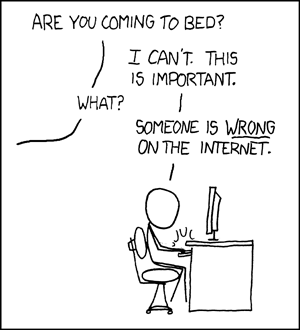 Two new undermining tactics I've come up with (the first I've put into practice, but the second is too combustible and so far exists in theory only):
1. Deliberately misjudge or question the gender of a person you're communicating with by email (or any other internet-fueled written medium of discourse). This one came in handy recently in the comments section of JohnnyO's blog, when a fairly asinine reader kept making troll-ish comments and basically being a nuisance. I wrote a comment sort of subtly poking fun at this person, but the key was constantly referring to him as 'him/her' or 'he/she' when it was clearly obvious both from his handle and his writing style that it was a he we were dealing with. He replied with a huffy diatribe that ended with 'I'm a he, by the way!!'. Mission Subtly Undermine = accomplished.
It became clear to me how subtly undermining it can be to have your gender misapprehended when my best friend fell of his bike when we were 12 years old. My friend had long-ish hair and was at that humiliating not-quite-to-puberty point when it's possible to be mistaken for a girl. Anyway, he wiped out on his bike, landed hard and broke his collarbone. As he was writhing on the pavement gasping for air, a good samaritan guy arrived and started shouting out, "Call for help! This little girl is hurt! She can't get up!". My friend was desperately trying to wheeze, "I'm a boy!" but couldn't manage it. Bad times!
2. Anytime you call someone and reach their voicemail, quickly jot down their entire spoken outgoing message. Then, when it's time to leave a message, recite back their outgoing message but in a high-pitched, whiny, mocking voice. I bet you could alienate every single friend with voicemail and perhaps entirely wipe clear your social slate by doing this for a month or so.
See also: Subtle condescension techniques