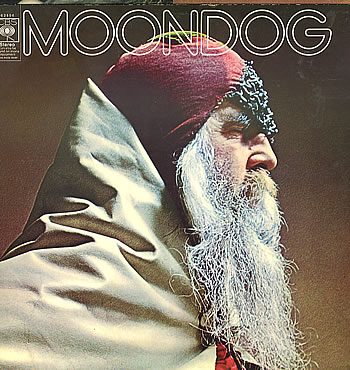 Louis Thomas Hardin, aka Moondog, made a drum set from a cardboard box at age 5, lost his site at age 16 to a dynamite accident, and moved to New York City at age 27, where he lived on the streets playing music on corners dressed as a Viking.
Here are the two opening tracks from his self-titled 1969 CBS album:
Theme/Stamping Ground by Moondog
These are officially two different tracks. The first part , "Theme", was (I think) used in the Brazil soundtrack, and the second part, "Stamping Ground", has become a standard of sorts. They're separated by Moondog's odd observation that "Machines were mice and men were lions once upon a time… but now that it's the opposite, it's twice upon a time." In the first copy of the album I got ahold of, these two tracks were joined together into one, so that's the way I got used to thinking of them and how I'm presenting them.